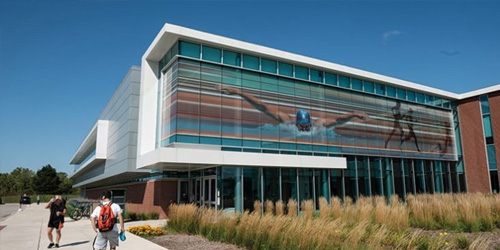 The Health, Fitness and Recreation Center (FitRec) at Moraine Valley Community College is a 113,000-square-foot facility that's out to show what community colleges have to offer in the realm of recreation.
Built in 2014, the facility allows Academics, Athletics and Campus Recreation to all work together under one roof and provide a variety of opportunities for not only students, but the community as well. Mike Schneider, the director of Campus Recreation for CENTERS, LLC at Moraine, explained they don't see the typical usage of a four-year institution rec center, but they do see the same correlation data related to retention.
"In many of our surveys, we've learned students feel the facility is an excellent benefit and it does contribute to their decision to continuing to attend Moraine Valley," said Schneider. "Additionally, about 50% of our members indicate they learned about other offerings at the college just by using the facility. This means we are able to market the college to the community, and with an open enrollment, it's a nice way to inform the local community of various programs and offerings outside of what we offer."
Schneider emphasized the benefits of being a community college many might not realize, including being able to subsidize much of the building's operating costs by having over 4,000 community members.
…