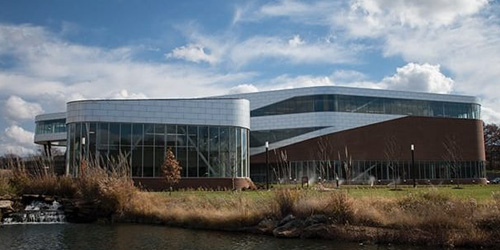 Each year a handful of schools receive the NIRSA Outstanding Sports Facilities Award. This award recognizes recently renovated or expanded collegiate recreation facilities of NIRSA Member Institutions. Last week at the NIRSA Annual Conference & Recreational Sports Expo several more schools were given the honor of receiving this prestigious award.
Not only is receiving this award an honor for the universities and campus recreation departments, but it is also an honor for the architects who have worked on these projects. Among the winners of the 2017 Outstanding Sports Facilities awards, were four facilities designed by CannonDesign. The winners include:
University of California Riverside, Student Recreation Center
University of Missouri-St. Louis, Wellness and Recreation Center
University of Victoria, Centre for Athletic, Recreation and Special Abilities
Northern Kentucky University, Campus Recreation Center
We spoke with several architects from CannonDesign, who reflect on their experience working on these projects and share insight on what it takes to win a NIRSA Outstanding Sports Facilities Award.
…