CENTERS provides management solutions that maximize value, mitigate risk, advance higher education's mission, and optimize the bottom line. Colleges and universities are great at delivering their core mission of education, but not necessarily good at every service that goes along with running campus centers such as multi-use sports complexes, recreation and wellness centers, performing arts venues, and student centers. In addition, P3s add an additional layer of complexity to operating requirements. CENTERS is well-versed in the world of P3 operations and manages several P3 sites in it's current portfolio.
Outsourcing dining and bookstores are common solutions for universities seeking ways to be cost-effective, preserve resources, and provide top-of-the-industry services. In a 2022 survey conducted by The Chronicle of Higher Education, 71% of campus leaders cited "superior service to in-house alternatives" and "speed" as the reasons to enter partnerships with 3rd parties. Universities continue to battle budgetary pressures and seek innovative partnerships for campus centers to provide not only outstanding financial performance, but also the ability to maximize the mission-related values of the facilities and programs.
CENTERS offers a unique management option for ambitious decision-makers that desire an advantageous financial and mission-centric business strategy. As higher education's first campus center professional management firm, CENTERS provides operational expertise and strong technical knowledge across a broad range of asset types resulting in operational efficiencies, cost savings, increased student and employee engagement and revenue-producing programs and services, while contributing to the advancement of vibrant communities.
CENTERS has advised and operated several P3 projects including the three showcased below which highlight CENTERS ability to align its solutions to the individual mission of its university clients.
Marshall University Recreation Center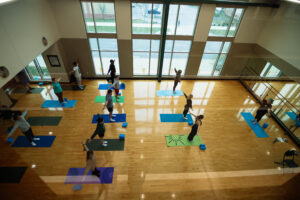 CENTERS and B&D worked closely with Marshall to open the first P3 collegiate recreation project in 2009. The $30 million recreation center used a non-recourse financing structure for 100% of the Recreation Center's project costs, utilizing a not-for-profit owner (Provident Resources Group) under a long-term ground lease with the University. The result was a financially self-sufficient project, preserving the University's debt capacity and minimizing credit rating impact. The Recreation Center was part of a larger issuance of $81 million in tax-exempt, revenue bonds that included an 800-bed student housing project. CENTERS manages the Recreation Center and the student housing is managed by Capstone On‐Campus Management. In addition to the Recreation Center, CENTERS operates a second on-campus asset, Fitch Natatorium, utilizing an enterprise approach and the Recreation Center team to manage the pool, swim meets and special events, and aquatic programs.
Jacksonville State University Recreation and Fitness Center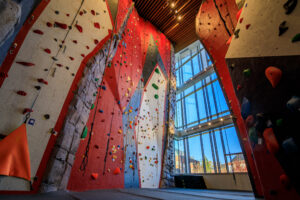 In January 2017 the JSU Board of Trustees approved a plan to build the 101,000 SF facility through a P3 with the JSU Foundation.  B&D served as the P3 advisor and CENTERS was selected as the operator for the new $45 million building and all associated programs and services.  To enhance campus life and shift campus culture JSU also retained CENTERS to take over the management of the university's recreational facilities and programming while the new facility was under construction.  The Recreation Center was the first project in Alabama to utilize the Construction Manager at Risk project delivery method.  It was the second collegiate student recreation facility in the country ever built under a P3 structure.  Implementing the project using a P3 structure provided speed-to-market advantages that saved JSU time and money.  The building opened in January 2019 – enrollment increased the next fall semester by 6% followed by several years of increased student headcount. 
Mylan Park Aquatic and Track Center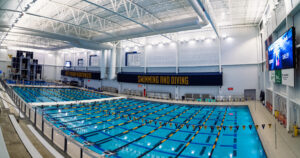 The state-of-the-art $48 million Aquatic Center and Track Complex, also planned by B&D, opened in 2019. The sports complex is owned by the Mylan Park Foundation (a non-profit 501c3) and is located in the 400-acres park that includes indoor and outdoor training and competition sports facilities and event venues. The Complex was constructed in partnership with West Virginia University, West Virginia University Hospitals, and Monongalia County. CENTERS operates the 50-meter competition pool and Olympic diving tower, indoor recreation and leisure pool, splash pad, outdoor 4,000 meter, 9-Lane track and field complex and more. The competitive facilities serve WVU athletics as well as generate economic impact to the region through sports tourism. The facility also generates revenues through memberships, programs, and special events and rentals to help balance operating costs.
Interested in learning more about CENTERS unique management solutions for campus center P3s? Join our newsletter or reach out to our solutions expert and Vice President of Business Development, Kim Martin today.