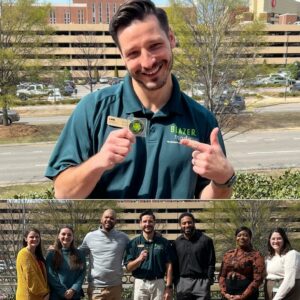 UAB Student Affairs recently recognized three Blazers for their contributions during the USHPCN Summit on February 16-18 in Birmingham, Alabama. The Division's "Excellence in Action" Coin was awarded to Henry Knejfl, Elizabeth Murdock, and Darien Garrison.
Even though severe weather warnings and a tornado occurred on the summit's first day, these three individuals exceeded expectations.
Staff members who demonstrate the Division's values and commitment to excellence are recognized with the Student Affairs "Excellence in Action" Coin. The award, also known as the "Thank You" Coin, is given to recognize an individual in the moment and is presented by Student Affairs Vice President John R. Jones, III, Ph.D. and the assistant vice presidents in the recipient's work area.
Knejfl serves as the associate director of programming for University Recreation. Murdock is the catering director for Blazer Catering Co., and Garrison is the assistant director for the Hill Student Center.