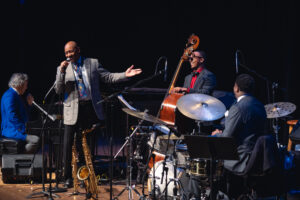 Goucher College has selected CENTERS to provide third-party services to operate Events and Conference Services (ECS) campus-wide.  As Goucher's ECS operator, we will focus on expanding the market portfolio, helping build Goucher's brand awareness, optimizing the scheduling of facilities, improving customer service, and mitigating risk. We will utilize Goucher spaces to showcase the campus and maximize the event calendar.  We will do all of this through a partnership with Goucher to ensure a safe and high-quality experience for all event and conference participants.
—-
The scenic Goucher College campus is located eight miles from the heart of Baltimore.  Conveniently located just off I-695 of the Baltimore Beltway (exit 27A), Goucher is the perfect natural setting for your next event. 
From a small, intimate gathering to a 900+ person performance, we can accommodate you. We have a variety of indoor and outdoor options, as well as customizable room configurations to exceed your needs. 
CENTERS is a professional management firm specializing in campus center operations and management consulting for colleges and universities. We are fully committed to optimizing the value of the resources our clients invest in their mission.  Our experience allows us to create value that produces operational efficiencies, cost savings, and speculative revenue generation.  And our partnerships are guided by the terms of a performance contract that goes well beyond fiscal management.