In 2004, Cleveland State University (CSU) embarked on a journey of instituting a bold, invigorating campus master plan that would help drive the university over the next ten years. The plan was motivated by new attitudes, new philosophies and a brand-new CSU. It would rethink the university's role in downtown Cleveland and how campus design could stimulate functional and visual links between the campus and the city; leverage development opportunities that enhance the quality of life of the university and community; establish an inviting campus environment that welcomes students, faculty, staff, and visitors; and enhance safety and convenience that appeal of all campus users.
Ultimately this master plan would establish a development zone at the periphery of campus where private sector development and operations could occur in partnership with the university.
One of the crown jewels of this campus master plan was the design, construction and operation of a brand-new 110,000-square-foot Recreation Center at the corner of Chester Avenue and East 24th Street. Never before in the 40-year history of CSU did they envision a facility and department that would accelerate the campus master plan and transform the campus forever.
BRAILSFORD & DUNLAVEY AND CENTERS, LLC PARTNERSHIP
Following financial, technical and market analysis from Brailsford & Dunlavey's management advisory services regarding the vision for a campus recreation facility, CSU entered into a management agreement with its subsidiary company, CENTERS, LLC. After several years of critical thinking, the implementation of a business plan and the physical construction of the facility, the CSU Recreation Center opened on August 26, 2006.
"CENTERS is an established and highly regarded campus partner over the last 15-years at Cleveland State University. Campus Recreation Services is synonymous with exemplary department operations and customer service; an optimal student and professional development model; creating innovative programs and services; and enhancing the facility through cutting-edge equipment and technology. We look forward to a continued and long-standing relationship with CENTERS on our campus." -Sean Ries, Executive Director – Campus Support Services
SERVING THE CAMPUS AND THE COMMUNITY
Campus Recreation Services has made a dramatic impact on the students commuting or residing at CSU. Originally, designed for students and affiliates of CSU, the university knew to materialize its campus master plan it needed to incorporate the city is our campus mantra and the building opened to the CSU community after one year of operation. As of 2021, Campus Recreation Services has an established community membership base of over 1,200 individuals and it welcomes another few thousand guests annually to the facility.
STUDENT DEVELOPMENT
Campus Recreation plays a significant role in higher education and society by educating students and providing guidance in an effort to produce citizens and future leaders. Student development refers to the way in which a student transitions or grows in their knowledge, skills, and abilities through participation in quality recreational programs, facilities, and services. CSU Campus Recreation Services assists in student development by creating opportunities for students to further grow outside the classroom. This is achieved through participation in award-winning facilities, extraordinary programs and exceptional services or via the employment opportunities made available through the department.
Campus Recreation Services is the largest student employer on campus and when fully staffed employs over 200 students each semester. The department has a diverse group of positions including operations assistants, membership representatives, lifeguards, swim instructors, fitness instructors, personal trainers, graphic designers, photographers, intramural officials, camp counselors, trip leaders and various student supervisor positions. The facility, programs and services are truly student run and student lead; and professional staff are here to teach, encourage, develop and mentor these students through their collegiate experience.
FACILITY UPGRADES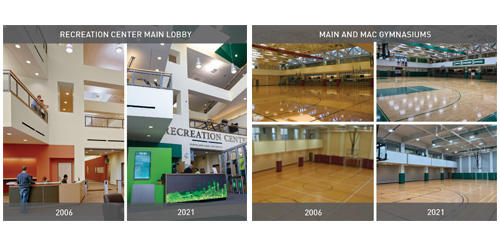 For the last 15 years, CENTERS has worked with CSU to make the appropriate upgrades throughout the facility to enhance the user experience and ensure the space was being utilized to the best of its abilities. From seeking approval from University Marketing to rebrand the entire facility in a more favorable CSU atmosphere, and adjusting facility spaces based on membership needs, the Campus Recreation Services team continues to look for ways to bring the latest and greatest opportunities to its members each day.
Expanded Men's Locker Room

: As the facility began its first full year of operation, it was quickly realized that the men's locker room needed to be expanded due to the demand and waiting list for monthly, semester and annual lockers. CENTERS worked alongside the CSU Office of the Architect to add an additional 120 lockers in the men's locker room.

Juice Bar turned Pro Shop

: With minimal activity and revenue from the existing Energy Oasis Juice Bar, the department converted the area into a highly profitable Pro Shop. Opening in September of 2011, the Pro Shop was built for $50,000 and has since grossed more than $370,000 in total revenue. The Pro Shop offers personal convenience items, protein shakes and bars, competitive equipment and customized CSU Rec apparel.

Green Roof

: It took two years, two students and the support of the entire CSU community to implement a 6,000 sq. ft. rooftop garden [3,000 sq. ft. of patio pavers and 3,000 sq. ft. of green foliage]. LeeAnn Westfall and Erin Huber met in an environmental science course where they learned about the intended rooftop garden on CSU's LEED-certified Recreation Center. Upon learning that the rooftop garden was expunged from the project due to lack of budget, they decided to take it on, doing everything from research and development to installing the garden with the help of volunteers. This project was a true example of engaged learning. Erin and LeeAnn began fundraising in 2007 through small events, spaghetti dinners and bake sales. Although these events could not provide all the funding for this $250,000 project, it helped gain support throughout the University. The students raised a portion of the funding and were supported by a local foundation as well as the University's administration. Without the support from the community at large, the dream of a rooftop garden could not have come true. The project was completed in August 2009.

Fitness & Wellness Suite

: CSU chose to repurpose the on-campus YMCA Daycare located within the Recreation Center and assign it to Campus Recreation Services to further enhance the university's fitness and wellness offerings. Campus Recreation Services in partnership with the CSU's Department of Facilities, Architect, Safety & Technology (FAST) renovated the $100,000 project and 5,000 square feet of space into a modern, forward-thinking fitness & wellness center complete with a boutique-style cycling room, multi-purpose fitness studio, instructional classroom, personal training studio, massage studio and several administrative offices. The space also was the original home to the Lift Up Vikes Resource Center and Food Pantry. The Lift Up Vikes program offers convenient, dignified and compassionate care which connects CSU students to resources that supplement nutrition and other basic needs as they strive to earn a college education. Due to the immense success of the program, it was relocated to a larger building and space on campus.

Adventure Recreation

: Campus Recreation Services established an Adventure Recreation program in 2013 by converting an original storage closet into a programable office, display and rental center. The adventure recreation program has applied for and received multiple Ohio Department of Natural Resources (ODNR) grants to purchase rentable outdoor equipment that includes tents, sleeping bags, backpacks, dry bags, propane grills and stoves, as well as additional camping accessories. The program also offers multiple outdoor recreation trips per semester and instructional clinics such as Stand Up Paddleboard (SUP), kayaking paddle clinics and the Ohio Boaters Safety course.
PROGRAMMING & SERVICE ENHANCEMENTS
With new facility spaces available, the staff continued to be innovative and creative with programming and services. Prior to opening, traditional fitness and wellness programs did not exist on campus; while limited intramural and club sports programming was operated by various athletic coaches and/or the department of student life. But there have been major changes to the CSU programs over the last 15 years including the following:
Usage & Attendance

: In 15 years, the Recreation Center has welcomed over 3.2 million unique individuals and visits have tripled with over a 130% increase in annual facility attendance since day one.

Participation Numbers:

Campus Recreation Services through their diverse programs and services has served over 400,000 unique individuals in the last fifteen years. The Recreation Center has seen an increase from 11,049 to 33,641 in annual program participation numbers since first opening the facility.

Aquatics:

The creation of a robust learn-to-swim program serving infants as little as 6-months old to adults wanting to learn a new life-long skill. The program also features private swim lessons, master's swim, and the recently created CSU Rec Swim Team. The CSU Rec Swim Team is perfect for the up-and-coming young athlete interested in competitive swimming. Geared towards proficient young swimmers; the swim team's goal is to enhance technique, develop speed and endurance, and build confidence in a fun, competitive atmosphere. Progressive, structured practices will introduce and teach the basics of competitive swimming and prepare team members to swim in local meets.

Safety Courses

: Campus Recreation Services continues to offer a wide range of safety courses including Adult & Pediatric CPR, AED, and First Aid; CPR and AED for the Professional Rescuer, Wilderness First Aid, Certified Pool Operator, Lifeguard Training, Lifeguard Instructor, and Water Safety Instructor Training.
Fitness and Wellness: This flagship departmental program area offers more than 15 formats and 25 weekly group fitness classes to students, faculty, staff, alumni and community. The program also offers individual and group personal training, massage therapy, customized fitness education, assessments and outreach, fitness equipment rental, and diverse instructional classes such as Pink Gloves Boxing and F45.

Pink Gloves Boxing (PGB)

: PGB is not your average boxing class with the goal of crushing calories. The female focused empowerment program combines the PGB tier system to teach the art of boxing by building a community competing against themselves to increase self-defense and well-being. CSU is the only collegiate program to offer all seven PGB tiers and has served more than 1,000 women in the six-year history of the program.

F45

: This functional 45-minute workout is effective, fun and community-driven. It combines elements of high-intensity interval, circuit and functional training delivered through a digitally-connected global network of studios. Participants experience a continuously evolving fitness program in which virtually no two workouts are ever the same. CSU was the first collegiate institution east of the Mississippi River to offer the program to its students, faculty, staff, alumni and community. To date, F45 has served well over 4,000 participants on our campus.

Club Sports:

The club sports program (university sanctioned student organizations) has gradually and continually grown over the years, but really flourished beginning in FY16. CSU's club program grew from 14 active clubs to 24 active clubs, and during that time period increased from 252 student participants to 436 student participants. The sport club program serves more student athletes than the intercollegiate athletics program and is an instrumental recruitment and retention tool for CSU. The sports club program also supplements 50% of their operational budget through philanthropic initiatives and fundraising. This helps alleviate the financial stressors on the General Fee Advisory Committee (GFAC) and allows them to support additional student organization funding.
Intramurals: The intramural program has also seen great growth over the last fifteen years. It serves approximately 600 participants, 150 league contests and 75 teams on an annual basis. The program has also increased its sport offerings and it currently has XX sports.

Camps

: The camp program has grown to hosting day camps throughout the year culminating with an 11-week summer camp enrolling more than 825 student campers from parents and guardians employed at CSU or the surrounding downtown community.

Milestone Events

:

Rock the Rec – Welcome back event for the students and one of the biggest events on campus for students.
WellFest – University wide program that brings over 800 people together to promote wellness.
THE FUTURE
During the height of the pandemic in 2020, Campus Recreation Services embarked on creating and establishing a five-year business plan that directly aligns the department with CSU's original Statement of Strategic Priorities and subsequently updated 2.0 plan to emerge from the pandemic a stronger and more focused institution.
By creating its own set of broad strategic initiatives, as well as specific business goals and objectives; Campus Recreation Services is better able to position the department within the university framework while supporting the overall vision, mission and goals of CSU.
Campus Recreation Service's (CRS) Strategic Priorities:
Strive to position the CSU Recreation Center as a recognized national leader for health, wellness and recreation in Cleveland in order to support the university's goals of being both an "anchor" & "beacon" institution.
Continue to develop ways for CRS to make contributions to the campus community by way of experiential learning opportunities, student employment, academic program participation, campus involvement, and organizational partnerships.
Collect data and showcase the results and impacts campus recreation has on student successes, as well as the overall college experience.
Strive to make CRS the model support institution by exemplifying leadership in both internal and external projects, identifying service and programmatic efficiencies, and innovating operations.
Strive to capitalize on recognition opportunities at a local, regional and national level both inside and outside of collegiate recreation.
Always strive to create an experience that is welcoming, inclusive, educational, and innovative.
Campus Recreation Service's (CRS) Business Objectives:
Pioneer a robust and visible digital presence for CRS in the metro-Cleveland marketplace.

We will launch an external website that stands out amongst our fitness center and boutique studio competitors.
We will be recognized by our peers for our innovative marketing & advertising techniques as the premier downtown fitness center (i.e. SEO, IP Targeting, etc.).
We will offer an innovative virtual membership package that engages our patrons when they are not physically present in our facility.
We will be a digital first facility – systems, technology, marketing, advertising – allowing us to be nimbler in the ever-changing environment.

Establish CRS as a university recognized, leading and comprehensive wellness brand.

We will explore a department name change to align ourselves with the higher education industry and improve delivery of our wellness brand.
Shine Well will be the vehicle that drives the reasoning behind each and every program, service and facility decision. It will also be the action behind the purpose to partner with already established university programs and partnerships. (i.e. Journey to Wellness; NEOMED/Law School remote yoga; academic program internships, etc.)
We will seek acknowledgement for our employees and our department from recognized higher education associations, accreditations and non-profit organizations supporting the recreation and wellness industry.

CRS will be a sought-after campus partner and collaborator.

We will be synonymous with exemplary department operations and the operational model for professional and student development.
Creating and leading collaborative opportunities with other departments, organizations and partners both on- and off-campus.
Actively seeking and participating in campus activities and projects to share our expertise and contribute to university initiatives.

CRS will rebuild and rejuvenate our community membership base.

We will develop enhanced pricing, bolder promotions and targeted outreach.
We will create an innovative membership structure that encompasses "value-adds" for our patrons to reestablish trust in our previous members.
We will pursue aggressive promotional campaigns to increase visibility in the highly competitive downtown fitness industry.

Create an enriching workplace culture that makes us a sought-after employer

Re-establishment of an attractive and competitive wage and perks package for employees.
Establishment of an approach to recognition amongst staff at all levels that is encouraging, empowering, and part of daily operations.Implementation of a comprehensive staff development and training plan with practices that support and empower staff at all levels, and invests in their continuous growth.
Implementation of a structured accountability plan that clearly outlines both opportunities and expectations, and promotes respect, responsibility, integrity and professionalism amongst staff at all levels.
There are many physical capital improvements, programming ideas and service initiatives that Recreation Services would like to accomplish over the next five years. By utilizing the strategic priorities and business objectives as the guiding light, Campus Recreation Services is poised to accomplish its goals for the future success of CSU. A sampling of these goals includes but are not limited to the creation of a virtual fitness program and membership; complete redesign of the website; increase the campus reach of the Shine Well program; develop and enhance inclusive programming and services; digitize enrollment processes for membership, programs and services; expanding the e-sports program; maximize programable outdoor field space; and several flooring, painting, and lighting projects.
CELEBRATION
CSU celebrated the Campus Recreation Services department and Recreation Center's 15-Year Anniversary during their annual fall semester Rock the Rec special event on August 26, 2021, from 4-7 pm as they welcomed students back to campus. Campus Recreation Services is excited to have students, faculty, staff, alumni, and the community back on campus and we look forward to seeing what the next 15 years will bring. Congratulations to Campus Recreation Services and CSU for an amazing 15 years!
Written by:
Nick Froelich – Director, CENTERS at CSU
Matt Schmiedl – AD of Marketing & Advertising, CENTERS at CSU
Greg Ross – CENTERS Vice President of Operations (Past CSU Director)
Julie Ray – Project Manager, CENTERS, LLC.