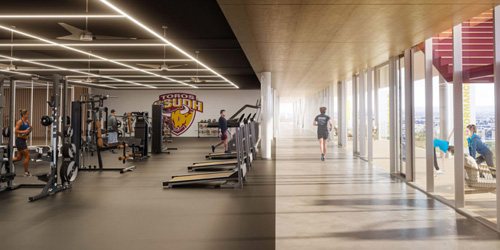 In April 2022, CSUDH students voted on a referendum to help fund a new on-campus Health, Wellness, and Recreation Center. The initiative passed, with 53% of Toros voting in support of raising student fees to invest in the proposed facility.
The four-story, 83,000-square-foot center will house basketball and volleyball courts, a rock-climbing wall, cardio workout equipment, an elevated jogging track, a dance studio, gender-inclusive locker rooms, and office space.
The facility will also include a satellite psychological services and mental health center, a satellite student health center, healthy eating and nutritional counseling center, and a stress-reduction and relaxation room. Funding for the $85 million project will come from the state of California (which has pledged a $20 million down payment), philanthropic contributions, and student fees.
After the successful vote, Vice President for Student Affairs William Franklin said, "This center will serve as a venue for education, where users develop positive self-esteem, enhance their social relationships, and build unique opportunities for interaction, collaboration, and community."
In preparation for the referendum, Franklin and several student leaders traveled to student health centers across the CSU system to gain a better understanding of how such a space will impact the university.
…