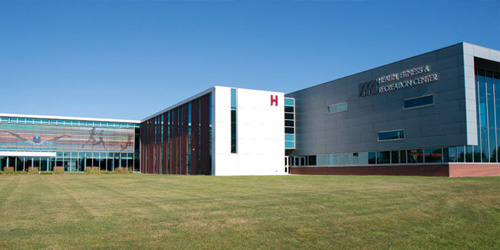 A common misconception surrounding Moraine Valley Community College (MVCC) is that its campus rec center must be small since it's a community college.
However, the 113,000-square-foot facility that opened in Palos Hills, Illinois, in 2014 takes many by surprise. "It's much larger than most people think when they tour it," said Mike Schneider, the director of FitRec at MVCC. "They quickly realize our fitness floor rivals most large institutions or big private clubs they may have experienced in the past."
With a three-court gym, a four-lane pool complete with swim lessons following the Jeff Ellis Swim training program and four group fitness studios that play host to Les Mills classes, MVCC has a lot to offer both students and the local community.
Creating Something New at Moraine Valley
But that's not always how it was. In fact, MVCC didn't have a campus rec department for the existing fitness center in 2013. At that point, the college hired CENTERS — a management company for university recreation, fitness and wellness facilities as well as other campus centers. Schneider was given the opportunity to move from another CENTERS location — the University of New Haven — to MVCC.
Interestingly, the college wasn't Schneider's first chance to create a new department or be part of a facility opening. He had been involved with the 2005 …