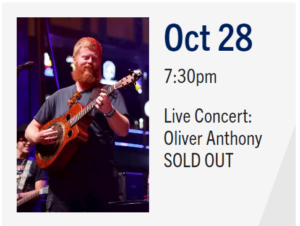 Internet phenom, Oliver Anthony chose CENTERS at Longwood's JPB arena as the site of his Farmville homecoming. His October 28th at 7:30 pm show, which sold out the 3,000-seat venue in just under 60 minutes when it went on sale to the public on October 6th, will be one of the first concerts at the newly opened JPB. The JPB. with its stunning façade facing downtown Farmville is easily accessed by foot from downtown restaurants, bars and shopping options, making it not only home to Lancer Basketball but also one of Central Virginia's premier entertainment venues and an integral part of life in Farmville. 
The CENTERS at Longwood team aligned with all stakeholders to execute the hugely successful public on-sale campaign for this venue defining show. The marketing campaign relied heavily on highly orchestrated coordination of social media efforts by the artist which were then amplified by the university. Additionally, box office system, Glitnir Ticketing, had to be ready to handle significant sales volume in a short amount of time, in addition to managing a student pre-sale campaign the day before. The results speak for themselves, as the show sold out within an hour.  
According to an Oct. 5, 2023 article by Billboard online, Singer-songwriter Oliver Anthony, known for his breakthrough Billboard Hot 100 chart-topping hit "Rich Men North of Richmond," is playing one more show before the end of the year, and he's making it a hometown celebration.