CSU On Cutting Edge of Technology: New FarmBot has endless possibilities when it comes to cultivating a healthy living
Cleveland State University recently unveiled a one-of-a-kind garden that can be controlled from anywhere in the world via an app.
It has the potential to be a major game changer on campus—and beyond.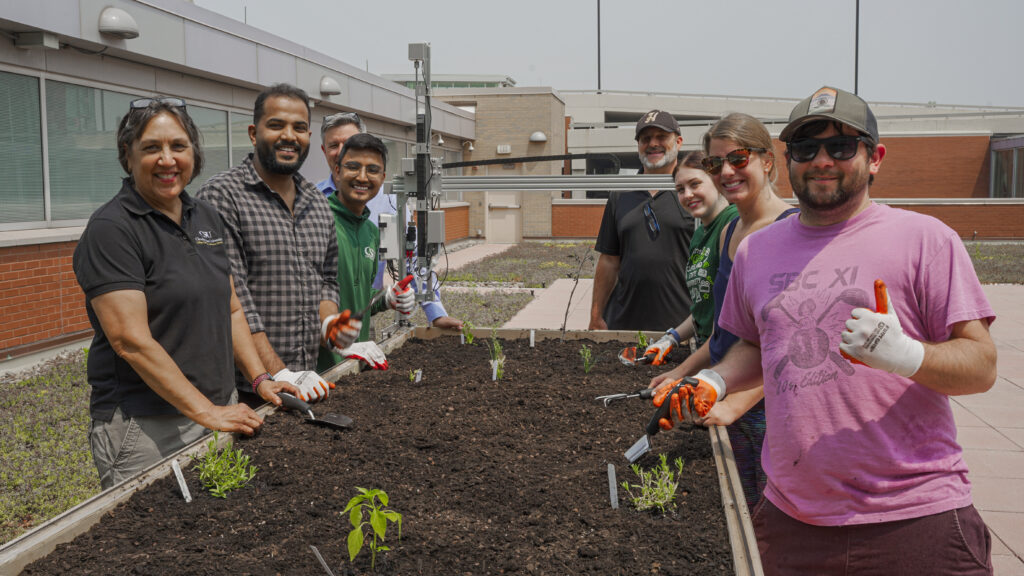 The newly installed FarmBot, located on the CSU Recreation Center's green roof, is much like a regular garden you might see, but looks are deceiving. It is controlled by a robotic farming machine and corresponding software. FarmBot aims to "create an open and accessible technology aiding everyone to grow food and to grow food for everyone."
By utilizing the FarmBot app, movement commands can be accessed, you can see your crop in an instant, turn the lights on for a nighttime harvest and even water your plants, from anywhere in the world.
The agriculture industry is experiencing a remarkable revolution through the integration of technology like FarmBot (specifically robotics) which is paving the way for advances in efficiency, sustainability and productivity. Robotic technologies are already streamlining agriculture—from crop planting, to harvesting and maintenance.
FarmBot at CSU Rec Center RooftopMachine learning will ultimately give farmers the ability to make more informed decisions in maximizing crop yields and protecting them from weather pattern challenges. It's not a stretch to see a future where autonomous drones equipped with sensors are used for crop surveillance, detecting diseases, optimizing irrigation and more—all programmed with algorithms to handle everything from seeding to weeding, reducing the need for pesticides in the process.