Recreation Center and Student Center
Location:

Cleveland, OH

Opened

: Rec

–

August 2006

Term:

Rec 2004

–

Present, Student Center 2022

–

Present

Total Size:

232,000 SF

Total Cost:

$73.8 M
CENTERS at Cleveland State University Recreation Center
Overview
In 2004, Cleveland State University embarked on a journey of instituting a bold master plan to drive the university over the next several decades. One of the crown jewels of this plan was the new Recreation Center. Six months prior to opening, CSU entered into a management agreement with CENTERS that proved to be a long-lasting partnership. University Recreation and Wellbeing continues to remain on the cutting edge by delivering innovative programs to the university community such as Pink Gloves Boxing (one of the first universities to offer a female-focused boxing program centered around positivity and empowerment) and the Shine Well initiative (classes, programs, services, and events that promote every dimension of wellness to support a balanced lifestyle). After expanding our managing portfolio by adding the CSU Student Center in 2022, CENTERS is focused on ways to capture synergies and utilize the economies of scale of managing multiple campus centers while still aligning both student-focused facilities with the university's strategic plan.
Facility Facts
110,000 GSF
2 Basketball Courts
Multipurpose Gymnasium
6 Fitness Studios
F45 Studio
50 m. Competition Pool
25 yd. Instructional Pool
3-Lane, 70 ft. Functional
Turf Space
4 Racquetball/Squash Courts
Massage Therapy Studio
Outdoor Green Roof Patio
40,000+ SF Fitness Floor
Pro Shop
CENTERS at Cleveland State University Student Center
Overview
In 2010, CSU continued to carry out the Campus Master Plan by adding a new Student Center located in the heart of campus. After several years of assessing life-cycle management, customer service, and resource allocation, CSU expanded CENTERS' campus portfolio (based on 16 years of successful partnership managing University Recreation) with the operational management of the Student Center making CENTERS the largest student employer on campus. CENTERS deploys a multi-asset approach through a paralleled operational paradigm, unified organizational chart, integrated student training model, collective policies and procedures, shared emergency action plan, and increased buying power on campus. This enterprise approach highlights the Student Center as the living room of campus through improving efficiencies, eliminating redundancies, and reducing expenses.
Facility Facts
120,000 GSF
6 Dining Locations
Ballroom
Student Lounge
University Bookstore
Print and Mobile Services
Computer Lab
VikesConnect
University Offices
Nick Froelich, Executive Director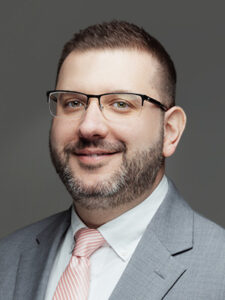 Mr. Froelich is a department head within the CSU Division of Business Affairs & Finance and is the senior leader responsible for the overall functional and day-to-day operation of CENTERS at Cleveland State University including the Recreation and Student Center. His leadership includes strategic planning; fiscal administration; human resource management; policy-making and implementation; facility maintenance; custodial services; member & guest services; fitness & wellness; aquatics & safety; intramurals; club sports, camps; adventure recreation; technology and marketing & advertising. He has been part of the Cleveland State team since 2012. Prior to joining CENTERS, he worked at the Student Activity & Academic Center at Emory University and interned at Washington University in St. Louis. Mr. Froelich completed his graduate and undergraduate degrees at Georgia State University and The Ohio State University respectively. He is an active member of NIRSA: Leaders in Collegiate Recreation and has participated on many NIRSA committees and has had the privilege to serve in state, regional, and national roles including NIRSA Region III Regional Representative. He is a frequent conference presenter and assists CENTERS with management advisory services.
"The award-winning new Recreation Center at Cleveland State University is beautiful and functional. The management of the facility, its programs, and its services are provided in an expert manner by CENTERS' professional staff in concert with a superlative student employee program."
John J. Boyle III, Current Senior Fellow and Former Vice President for Business Affairs & Finance
Cleveland State University