Ray Meyer Fitness and Recreation Center
Location: Chicago, IL
Opened: September 1999
Term: 1998–Present
Size: 123,000 SF
Cost: $14.3 M
CENTERS at DePaul University
Overview
DePaul University is CENTERS' first site. After CENTERS' parent firm, Brailsford & Dunlavey, conducted planning work at DePaul to assess campus recreation needs, CENTERS was created to provide comprehensive operational solutions for DePaul.  The $14 million Ray Meyer Fitness and Recreation Center opened in September 1999 and had a transformational impact on the Lincoln Park campus. The facility was recognized for its excellence — receiving a Facility of Merit award from Athletic Business magazine and the Outstanding Sports Facility Award from NIRSA.  CENTERS is well-regarded on campus for its student development model, high-quality customer service, and contributions to DePaul's mission. In addition, the membership program helps strengthen the university's ties with the neighborhood while generating substantial revenue support for operating the facility.  CENTERS has continually repurposed spaces and evolved programming to best serve the needs of DePaul by expanding the men's locker room, adding an additional studio, changing the track infields into functional fitness spaces, as well as adding Outdoor Adventures, Wellness Programs, and Team Challenge.
Facility Facts
123,000 GSF
4-Court Gymnasium
4-Lane Suspended Indoor Jogging Track
13,000+ SF of Strength & Conditioning Space
5 Group Fitness Studios
6-Lane Indoor Pool
3 Racquetball Courts
Wellness Suite
2 Multipurpose Rooms
Locker Rooms
Private Changing Room
Juice Bar
Pro Shop
Massage Therapy Suite
Physical Therapy Suite
Maureen McGonagle, Director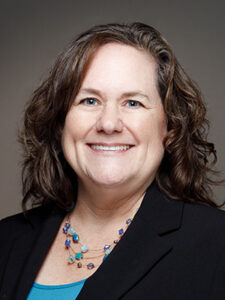 Ms. McGonagle, CENTERS first employee, provides vision and leadership for DePaul University's dynamic and comprehensive Campus Recreation Department. Ms. McGonagle created and nurtures an environment that inspires innovation, values excellence, and facilitates effective student development. She is active in the DePaul community, teaching for the university, serving as a team lead for the EDGE program, and serving as a judicial case advisor for the Dean of Students office. Previous positions include associate director of campus recreation and director of intramurals at the University of Illinois Chicago,  and graduate assistant at the University of Illinois Urbana-Champaign.  Ms. McGonagle completed her graduate and undergraduate degrees at the University of Illinois Urbana-Champaign and earned her Master's in Business Administration from the University of Illinois Chicago. Ms. McGonagle has held countless NIRSA leadership roles including President, Foundation Board Member, as well as Honor Award Recipient.  She is a frequent conference presenter and mentors CENTERS staff as well as assists with opening new sites.
"Changing the way you do business is always risky, but when CENTERS introduced their on-site staff to the university, I could not believe how perfectly each one of them fit our campus culture. DePaul's uniqueness and our values will be preserved and that's important—it's our highest priority."
Jim Doyle, Former Vice President for Student Affairs
DePaul University