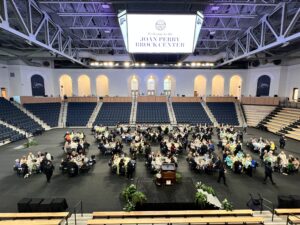 Hundreds of Longwood students, staff, alumni, and community members broke into applause as the ribbon was cut and the doors officially opened to a highly anticipated new building at Longwood University–the Joan Perry Brock Center–on Friday.
As the crowd made their way inside to catch the first glimpse of the space, already affectionately nicknamed the "JPB", the energy began to feel like a late-season Big South conference game: positively electric.
"This is a grand, spectacular arena," said Farmville Mayor Brian Vincent, a longtime season ticket holder who was eyeing seats behind the team benches for his family. "The Joan Perry Brock Center will certainly be an amazing addition to our town and university."
The Joan Perry Brock Center will be home to Longwood basketball and serve as a central community gathering spot for concerts, performance arts events, and Longwood traditions. Basketball games will seat more than 3,000 fans, while concerts and other performances can accommodate more than 4,000.
In his opening remarks before the ribbon was cut, President W. Taylor Reveley IV said the center is not only a culmination for the university, but also for Farmville, Prince Edward and the Southside region. He specifically addressed the students gathered on Brock Commons for the ceremony, noting it will be a game changer for campus life.
"It is your energy that is going to catalyze this place. You are going to cherish it, I can promise you that," Reveley said. "So many of you are seeing the inside for the very first time and you're going to be really, really impressed. As Joan says, this is going to be the heartbeat of campus."