University Recreation Center
Location:

Birmingham, AL

Opened

: August 2005

Term:

2012

–

Present

Size:

152,000 SF

Cost:

$24 M
CENTERS at University of Alabama at Birmingham
Overview
In 2005, the University of Alabama at Birmingham opened the $24 million University Recreation Center and operated it with an internal university department. By 2011, however, UAB identified the need to seek external management expertise to improve operational efficiencies and cost savings while still implementing innovative student-led programs and services. CENTERS was selected to comprehensively manage University Recreation and all programs and facilities.  To ensure a smooth transition, a start-up team of executives, management, accounting, and human resources was deployed immediately upon notification. In addition, CENTERS' staff trained all new and existing personnel, developed operating procedures and financial reporting tools, created a marketing plan, and improved financial protocols and the bottom line. In the fall of 2018, CENTERS opened a new $2.8M Intramural and Club Sports Field Complex which made a huge impact on the student experience for an urban campus.
Facility Facts
152,000 GSF
4-Court Gymnasium
4-lane Jogging Track
17,000 SF Fitness & Weight
3 Group Fitness Studios
F45 Studio
Functional Training Studio
4-lane lap pool with vortex, informal leisure pool, & river
3 Racquetball Courts
1 Racquetball/Squash Court
Wellness Suite including Massage Therapy, Nutritionist and Instructional Kitchen
Fitness Assessment Room
Multi-Purpose Room
Wet Classroom
Outdoor Recreation
Climbing & Bouldering Wall
Game Room
Athletic Training
Seneca Wilson, Director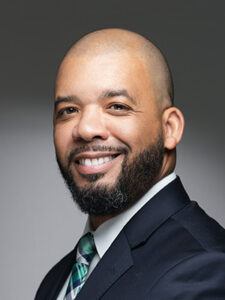 Serving as the Director of Campus Recreation at the University of Alabama at Birmingham, Mr. Wilson is responsible for oversight of University Recreation including strategic planning, leadership, facility operations, programs, membership, and marketing. Previously, he served as the Associate Director at UAB, Director of Campus Recreation at Jackson State University, and Assistant Director for Operations at Syracuse University. Mr. Wilson holds a Bachelor's degree from the University of Southern Mississippi and a Master's degree from the University of Alabama at Birmingham. He leads CENTERS Diversity, Equity, and Inclusion Committee and is a frequent public speaker on the topics of recreation and leadership. In his free time, Mr. Wilson is also an accomplished author and poet.
"The CENTERS approach and team have been instrumental in the revitalization and exponential growth of the university recreation program at UAB. Additionally, the CENTERS team at UAB have been fully engaged in the re-establishment of a dynamic cutting-edge division of Student Affairs."
M. Jacob Baggott, Former Assistant Vice President, Student Health and Wellbeing
University of Alabama at Birmingham