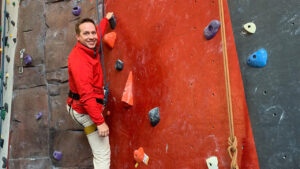 Paul Killen, CENTERS at Jacksonville State University Associate Director of Adventure Recreation, attended the annual Climbing Wall Association (CWA) Summit in Salt Lake City, Utah. While there, he earned his Climbing Wall Instructor Provider Certification which will allow CENTERS to train climbing instructors. In addition, Paul will ensure that CENTERS' climbing program leads the industry-recognized standard of practice and exceeds the level of competence you would find in any commercial gym in the United States. Not only is this great for CENTERS staff and clients, but we're able to provide quality certification programs to the climbing industry. Paul has led training for Auburn University, the University of Alabama, and climbing wall employees in the Birmingham metro area.
In addition, he received his Top Rope Climbing Instructor Certification through the Professional Climbing Instructors Association (PCIA). This certification provides credentials to teach and lead climbing in an outdoor setting. This has prepared him to set up and manage groups of climbers on technical terrain.
These certifications allow CENTERS to lead the adventure recreation industry and remain at the forefront of climbing wall trends. Congratulations, Paul, on receiving these credentials, continuing to innovate and pave the way for the future of the climbing industry, and making a difference for our CENTERS communities, including Jacksonville State University!